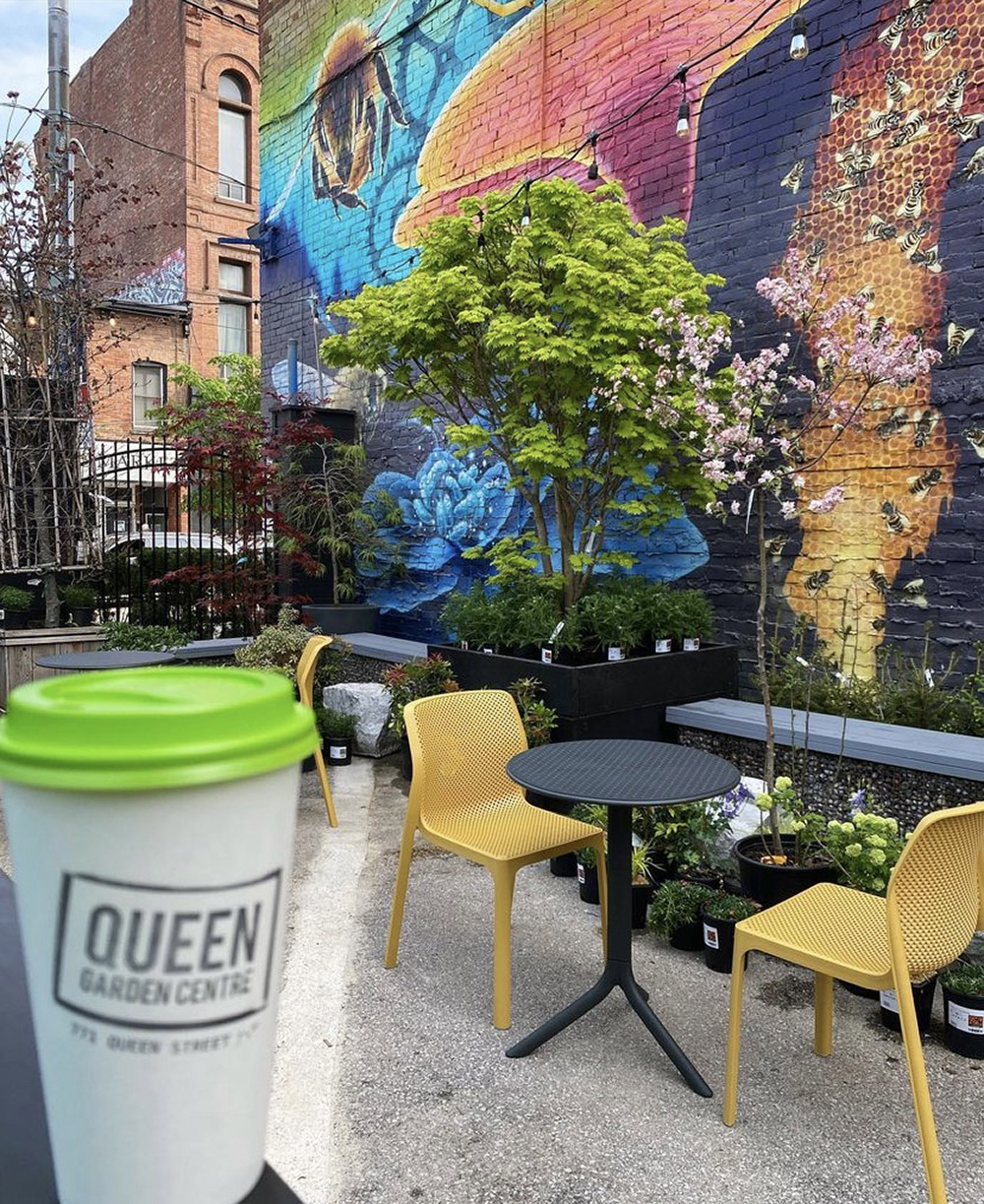 Queen Garden Cafe
Newly opened and just three doors down from our office, you'll know where to find us on break. The beautiful glasshouse coffee bar is tucked away inside a garden. Surrounded by lush plants (which we might add are all for sale) make it the perfect summer hangout spot to enjoy a refreshing hibiscus lemonade or delicious cup of coffee!
Address: 771 Queen St. East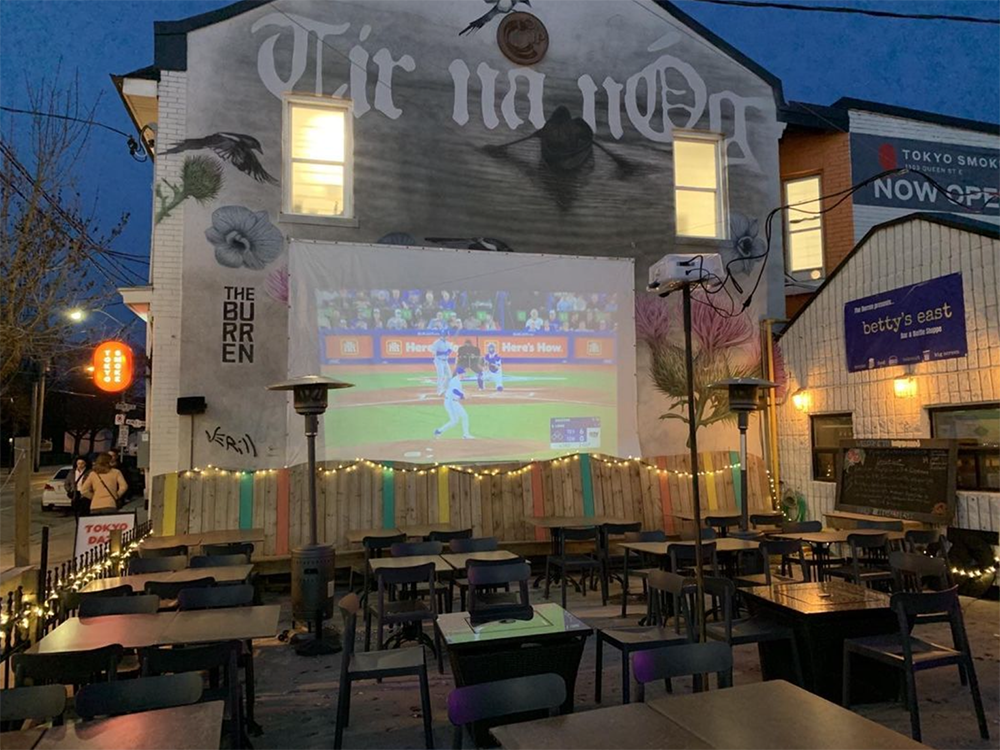 Bettys East
This spot is an extension of one of our favorite pubs & patios in the entire city, Betty's on King Street. The east end spot ticks all the boxes for a great patio; chill vibe, sunny, and home to some delicious cocktails such as Packs a Punch (Dark Rum, Blood Orange & Ginger Beer) & Lavender Lady (Indigo Gin, Lemon, Egg White & Lavender Simple Syrup). The summer is here, and we are ready to cheers to it!
Address: 1301 Queen St. East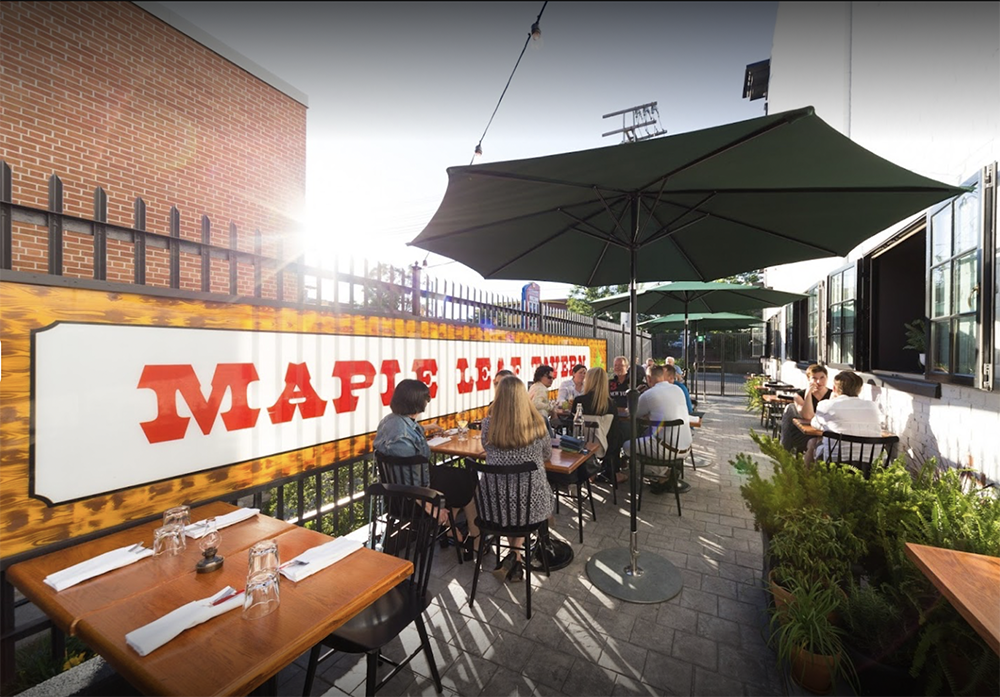 Maple Leaf Tavern
Looking for a large patio & fine dining? Look no further than the Maple Leaf Tavern! This charming patio is tucked discreetly beside the tavern, stretching down the entire side of the building. Avoid the busy streets of Queen & King and surround yourself with fresh greenery, good drinks and delicious food. What more could you ask for this summer?
Address: 955 Gerard St. East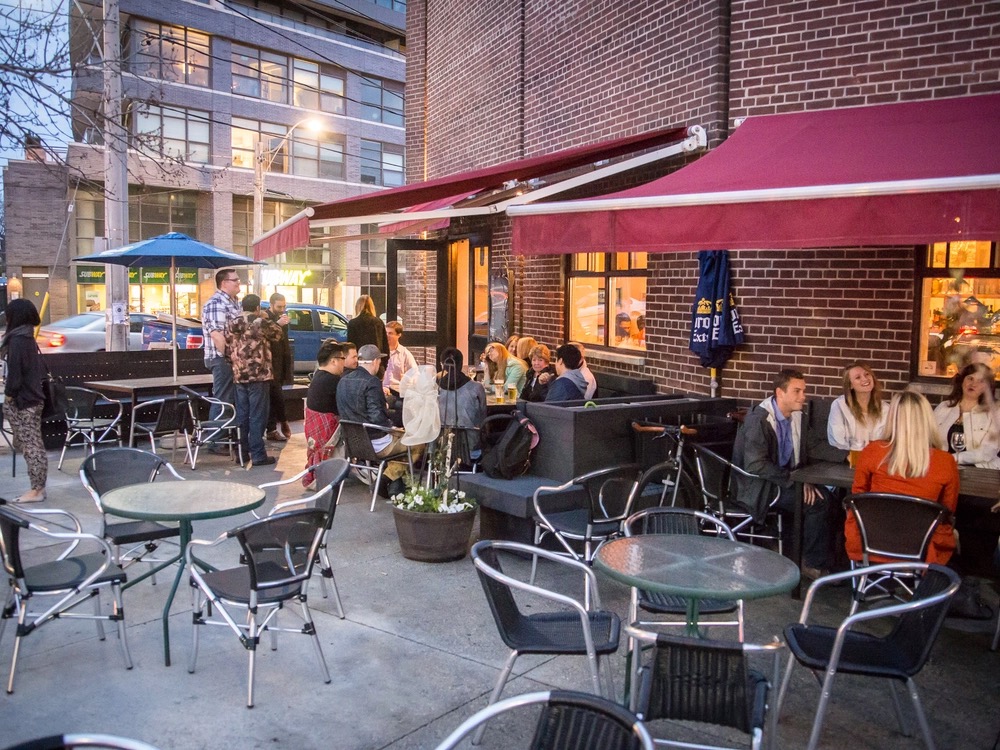 Dundas & Carlaw
Daytime? Nighttime? No limit here as this all day spot transitions from cafe to bar. Sitting on the southwest corner of Dundas and Carlaw this patio offers an impressively wide selection of wine & local cult beer!
Address: 1173 Dundas St. E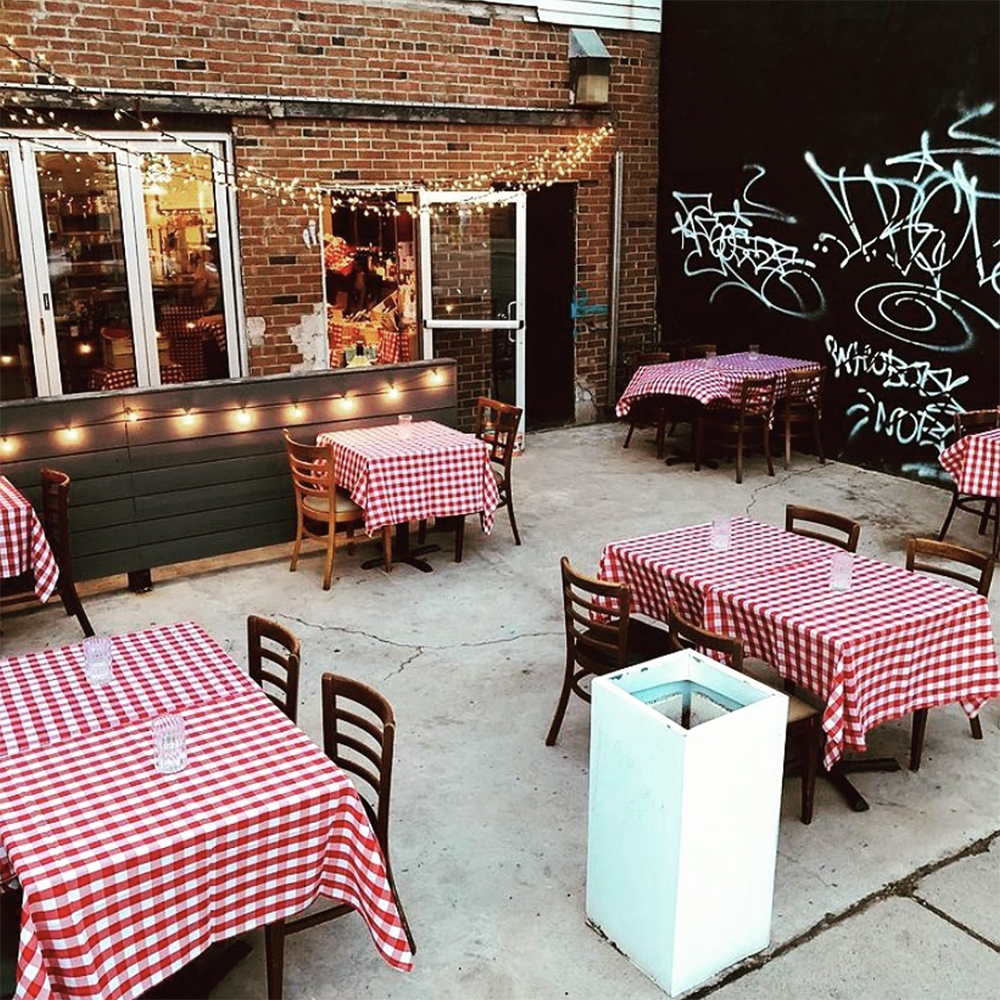 Gio Rana's Really Really Nice
This is one of our go to spots in the entire city and we were so happy when we heard Gio Rana was bringing their intimate atmosphere outdoors in 2020! With checkered tablecloths and string lights above you, this cute patio will transform you into thinking you're in a small town in Italy. Sometimes you may even catch them projecting an Italian film flickering on their brick wall in the evening!
Address: 1220 Queen St. E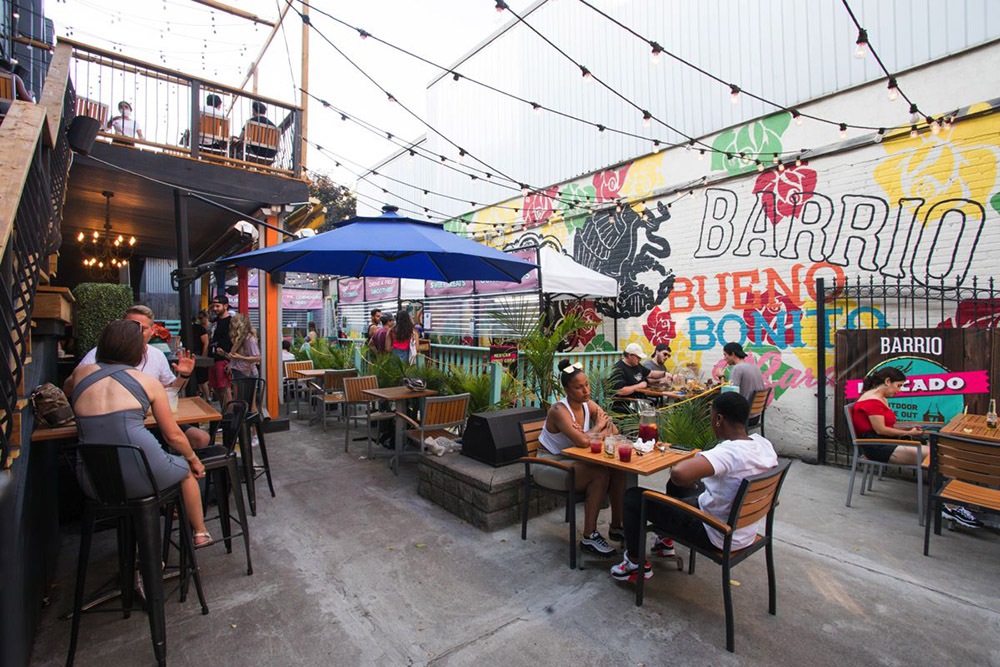 Barrio Cervecería
Just walking by Barrio will automatically intrigue you to check this place out! With its beautiful massive floral mural, hanging lights and outdoor bar there is no denying the atmosphere on this patio is electric! Their comfortable outdoor cushy seating is the perfect place to enjoy some world-class tequila and award-winning authentic Mexican fine-dining from scratch!
Address: 884 Queen St. E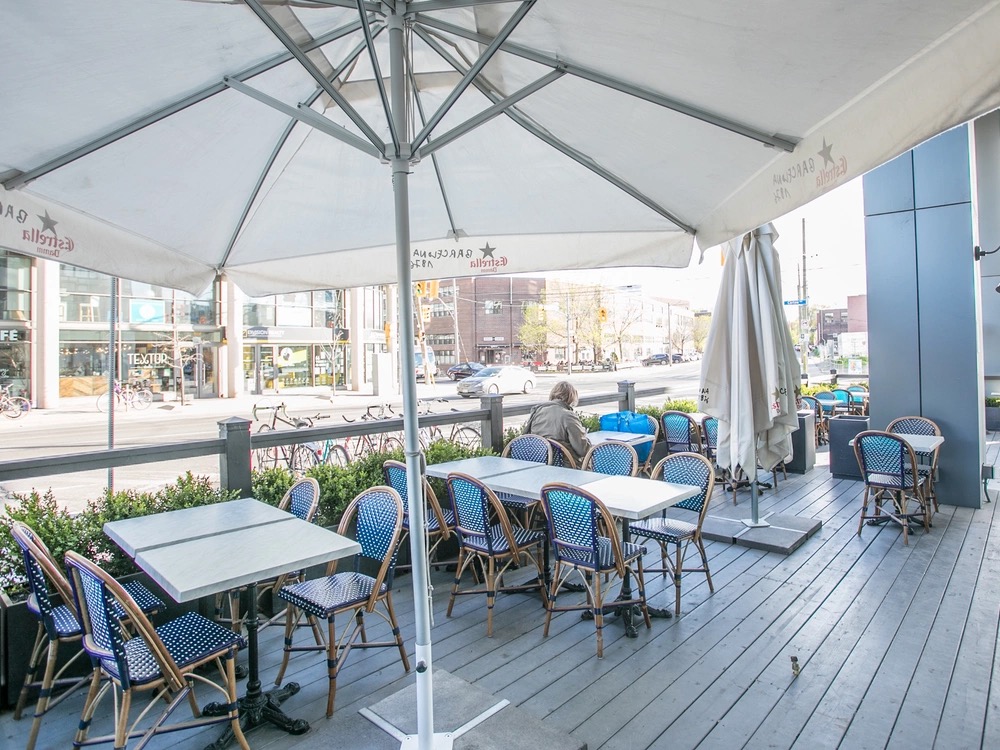 Gare De L'Est
Did somebody say dinner & a show? This patio is the perfect spot to hit up if you're looking for somewhere to go after seeing a show at Crow's theatre. Serving traditional French fare and brunch on weekends this cute sidewalk patio is a must place to check out this summer!
Address: 1190 Dundas St. E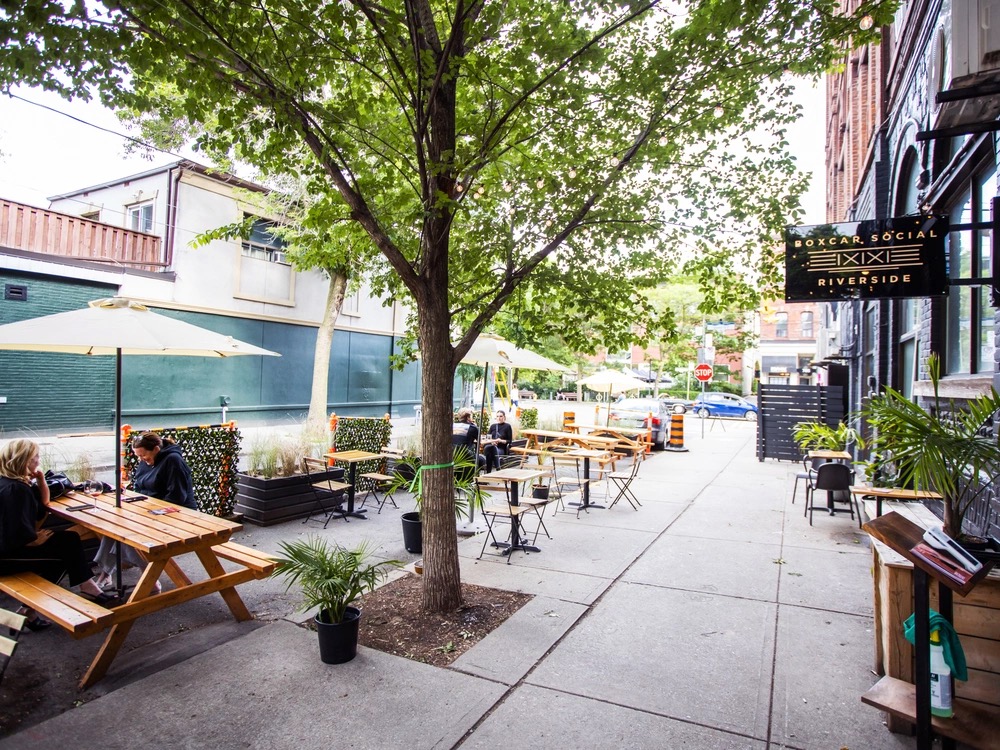 Boxcar Social
Tucked away on Boulton Avenue, the sun shines bright on this cafe's patio. Enjoy an excellent cup of coffee, or a glass of wine with locally made pizza and empanadas. This is a great place to hangout daytime, nighttime or day to night (no judgement here!).
Address: 4 Boulton Ave.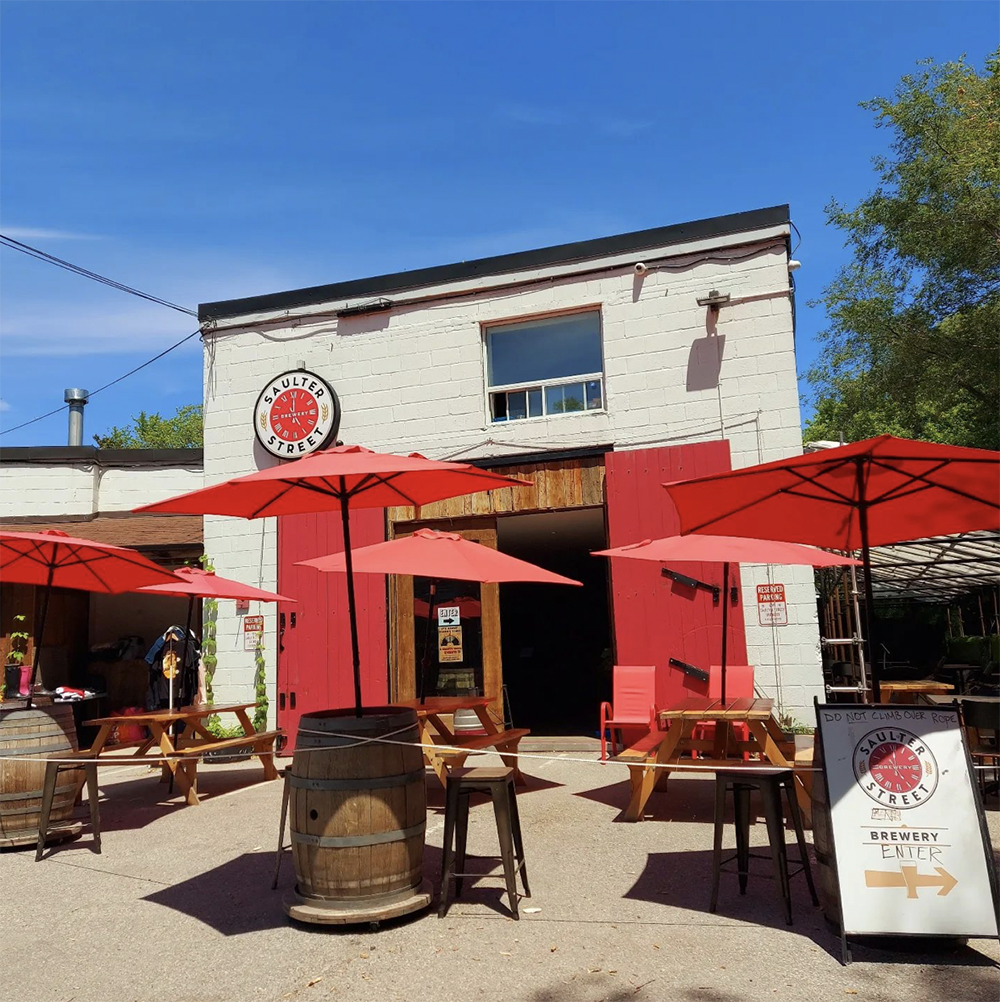 The Saulter Brewery
Literally right around the corner from our office, this small local brewery, taproom & bottle shop hosts a large outdoor patio perfect for the summer days & nights ahead. On draft includes a japanese style lager, watermelon lemonade fruited sour, a tropical stout and much more. Their beer selection (and wine) always has our mouth watering.
Address: 31 Saulter St. #1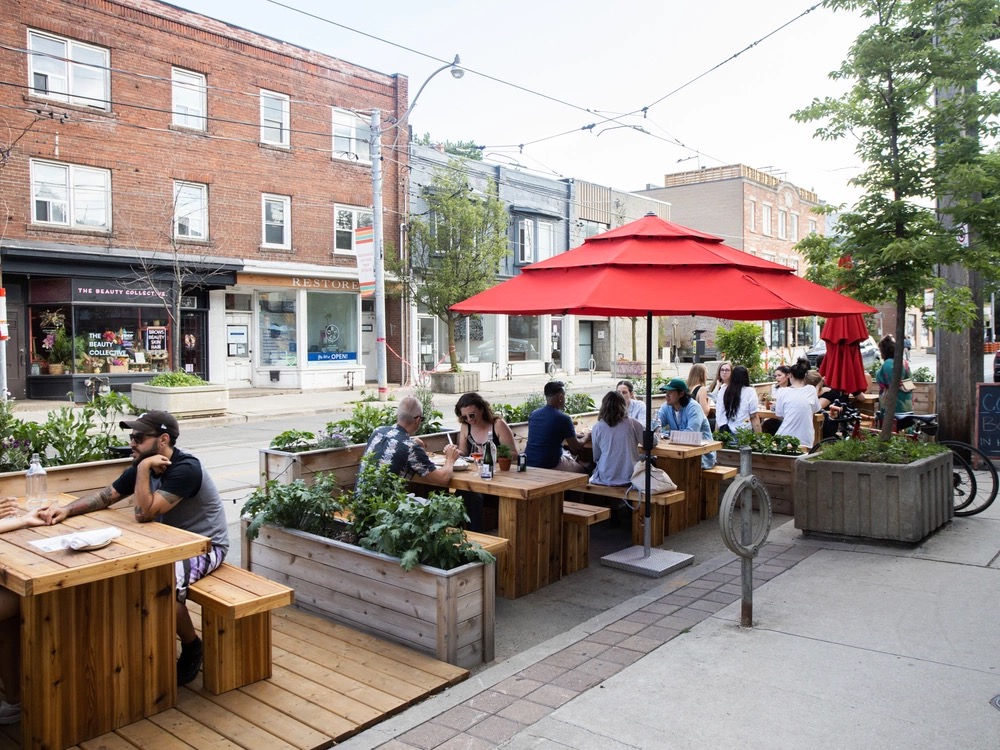 Avling Brewery
Situated in the heart of Leslieville, this curb lane patio is home to exceptional and experimental beer, food, and experiences that showcase Canadian flavours and locally farmed ingredients. It truly is one a of a kind and must be on your list of places to eat and drink at this summer!
Address: 1042 Queen St. E

Special shout out to The Keating Channel (not in Leslieville but close enough!) and so many more patios in our neighbourhood. If we listed every one of them, this blog would be as thick as the bible!