After more than three decades the building at 1 Jarvis Street that has hosted everyone from the Rolling Stones to Deadmau5 is shutting down. Did you know that, arguably, no one has spun in that room more than me (Mark Oliver, Chris Sheppard, and Terry Kelly may have but we would have to count!).
As many of you may know, prior to real estate I had a very prominent DJ career that started a long, long time ago. When I was four years old I used to take over the turn table in my parent's living room playing one song after another and making announcements between the tracks. By the time I was thirteen years old I had my own Technics 1200 turntables and was working on my skills. At sixteen I competed in the DMC World Mixing Competition and somehow managed to win the eastern Canadian championships. By the time I was nineteen years old I was DJing at 1 Jarvis Street, then known as "RPM", and had a hugely popular live-to-air radio show from "The Phoenix".
I am writing this post because I DJed at RPM for the final six years that it was open. Moreover, when Gilles Belanger launched "The Warehouse" I was honoured to be one of the residents and was also part of the promotional team that made the Saturday all-ages night a huge success. I have included a photo of me in RPM's DJ booth taken in September of 1991 by my Mother. I also have a shot from our all-ages night that I promoted with my long-time business partner Ben Ferguson and former business partner Gavin Bryan aka "The Gerbz".
Big shout out to Jeff Duke, Marlis Vos, and Jennstar who introduced me to Murray Ball who quickly hired me to spin regularly at the legendary club. Big shout outs to all the people who helped out along the way: John Craig aka "Craig Lugsdin" who helped anchor the all-ages Sundays with me, Terry "TK" Kelly who I DJed RPM Saturday nights with, KC & Rhythm who anchored "The Warehouse" with me, and Chico U and Carl Allan who regularly spun with me on Thursdays at RPM. I realize I am missing some people here but in my old age I can't seem to remember everything. Also big shout out to Chris Sheppard for the inspiration to take my Djing to a higher level. This giant venue at the foot of Jarvis will be missed. I didn't have a large affiliation with "The Guvernment" but I did DJ and promote the first event in the space just a few weeks prior to us opening "Industry". I also had a short lived Saturday night residency up in "The Drink" that was a little less memorable. Respect to Charles Khabuth for running such an incredible venue for such a long period of time. His dedication to top tiered night clubs is unparalleled. I hope everyone has fun at the closing party. I will be hosting many of my dear friends and their children for dinner at my loft that night and likely will spin a short set.
Thanks to all the friends, patrons, and staff alike for all the memories that will last forever.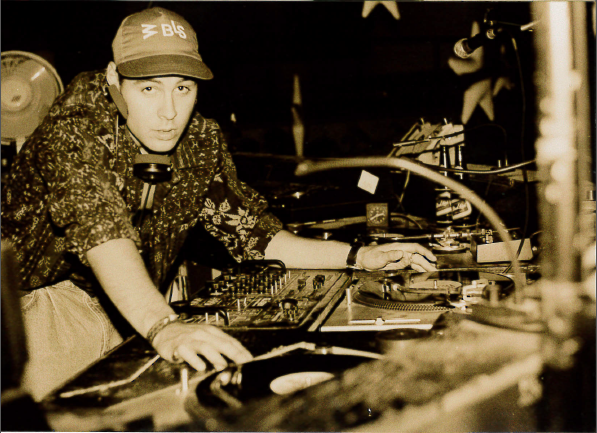 Me in the DJ booth at RPM rocking three turn tables and my favorite WBLS baseball hat given
to me by Kool DJ Red Alert, 1991.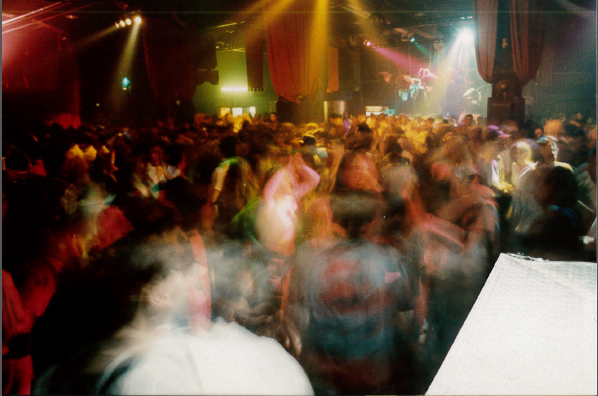 2500 all-age party-goers crammed inside The Warehouse cir. 1994
Matt Casselman aka "DJ Matt C"